Curriculum & Services
Main Content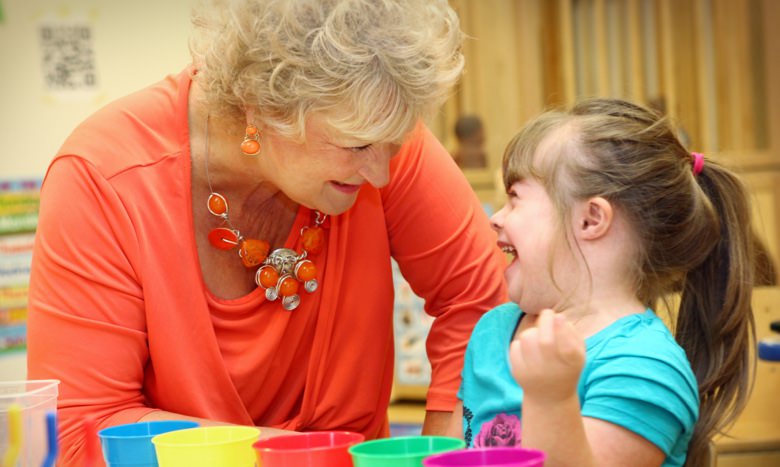 KinderFrogs focuses on curriculum that is evidence-based, content that is learned through investigation and focused, intentional teaching that builds on prior learning and experience. The school strives to ensure that the curriculum is thoughtfully planned, challenging, engaging, developmentally appropriate, culturally and linguistically responsive, comprehensive, and will promote positive outcomes for all young children.
Many services are provided using a collaborative/consultative service delivery model. These services include: occupational, physical, musical, and speech therapies, which are delivered through a transdisciplinary approach. The therapeutic activities are provided to the teachers and instructional aides, under each therapist's supervision as part of the daily routine. Recommendations are provided to families for carryover into the home and other natural environments.
KinderFrogs School's year-long schedule is closely aligned with the schedule of TCU, as well as the local school systems. The school calendar is shared in advance to allow parents to plan alternative childcare options when necessary.
The hours of operation are from 8:30 a.m. until 3:00 p.m. Monday through Friday. Parents are strongly encouraged to bring their children promptly at 8:30 a.m. for maximum educational benefit.
During the typical school day, each child generally follows a schedule that includes individual activities, group activities, gross motor play in the commons or outdoors, therapeutic services (if indicated), lunch, and rest (children may or may not sleep). Each child's schedule is individualized so their day includes as many learning opportunities as possible.
KinderFrogs School will offer a number of services to families that may include physical, occupational, and speech therapies using a collaborative/consultation service delivery model. The teachers and instructional teacher aides, under the supervision of the therapists, will deliver many of these services through a transdisciplinary approach in which the therapeutic activities are provided. The therapeutic activities will be integrated into the daily routine of each classroom. The therapists and teachers will monitor the activities on a regular basis. Using this approach, therapy is delivered in an efficient manner during a child's school day. Recommendations also will be provided to families for carry over in the home and other natural environments.
Based on individual children's needs, some children may be referred for supplemental direct therapies available in the community. Therapists may confer with parents to discuss recommendations and make referrals for additional therapy services.
Rachael Kauffman, Counselor
r.kauffman@tcu.edu
Rachael Kauffman is the Lab School Counselor for both Starpoint School and KinderFrogs. She began work at the Lab Schools during the 2018-2019 academic year. Rachael graduated with her Bachelor of Science Elementary Education from Oklahoma State University in 2001. She earned her Master of Science School Counseling from Texas Wesleyan in 2011. Rachael has taught Kindergarten in Aledo ISD, served as the K-6 Learning Specialist at Southwest Christian School, and taught 3rd grade in Burleson ISD. She and her husband Todd have a daughter Piper who attends Starpoint School.