Maestro Program
Main Content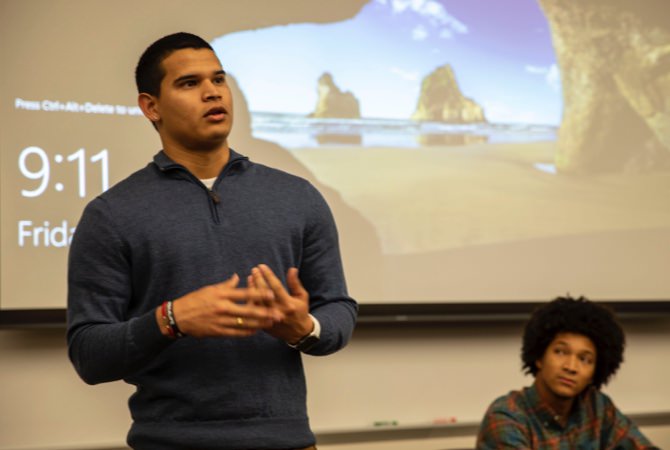 Research shows that Texas faces a drastic shortage of Latinx males in the classroom. The Maestro Program was created to reach and recruit more prospective Latinx male teachers for K-12 teaching positions.
Launching Fall 2022
MAESTRO is scheduled to launch in Fall 2022. The program will recruit, prepare, place, and support Latinx men as they endeavor to earn their degrees and their teaching credentials. As a result of Maestro, more Latinx men will enroll and graduate from TCU and the College of Education with their teaching credentials.
This will mark an increase of Latinx men entering the teaching ranks, resulting in more Latino male teachers serving as role models for the youth whom they teach and guide — bringing more "windows and mirrors" to classrooms throughout Texas schools. Our aim is to close the gap by increasing the number of Latinx male teachers serving as role models to achieving social, educational, and financial stability.
To learn more about about the program or support the development efforts, contact Steve Przymus at s.przymus@tcu.edu or reach out to the College of Education at coe@tcu.edu
While 25% of national public-school students identify as Hispanic, only 2% of the teacher workforce consists of Hispanic males. Furthermore, the teacher diversity gap, which can be calculated by subtracting the percentage of teachers of a certain race or ethnicity from the percentage of students of that same race or ethnicity is largest for Latinx students (Shapiro & Partelow, 2018). For Texas, Shapiro and Partelow (2018) found that a gap of twenty-nine percentage points exists between Latinx teachers and Latinx students, making the state one of the four with the biggest Latinx teacher–student gaps. Of the approximately 4 million teachers in the United States today, 80% are White, 64% are White females, and 1.7% are Hispanic males. Regarding the entire student body, the United States has 1 White female teacher for every 15 students and 1 Latino male teacher for every 534 students (Miller, 2013).
Research shows that finances are the number one cause cited by Latino males for their decision not to pursue higher education. Further, stereotypes that suggest only females teach and low teacher salaries keep Latino men from teaching. Currently less than 25% of the teaching force in Texas is male (all races), and most of them teach in high school. As a result, Texas faces a drastic shortage of Latino males in the elementary school classroom, where they could be serving as role models and achieving social, educational, and financial stability.
Several specific obstacles prevent Latino male students from completing university-preparation certification programs:
The cost of tuition, fees, and books and room and board
Loss of income while attending school and clinical-teaching programs
The need to support a family while attending school full time
Lack of both support and incentive for entrance into a teaching profession
If you would like to stay up-to-date with this new program, please tell us a little about yourself.